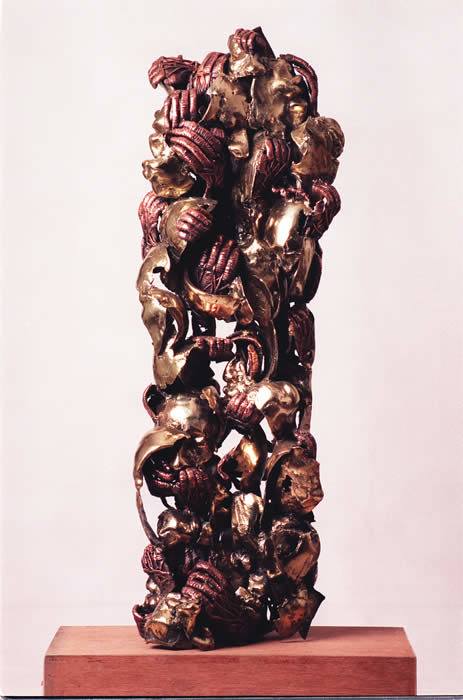 INTERNATIONALLY renowned metal sculptor Amin Gulgee was born in 1969 and hails from Karachi, Pakistan.
He is the son of the legendary Pakistani artist Ismail Gulgee. A graduate from Yale University, USA, he has exhibited his works extensively in the US, Europe and the Middle East.
The "Body & Soul" exhibition is his second in Malaysia, the first being a hugely successful exhibition entitled "The Search for Light" in 2004.
Amin is an innovator of tradition. His medium is metal and his inspiration the rich and varied spiritual history of his native Pakistan.
image: https://content.aimatch.com/default.gif
image: https://content.thestar.com.my/smg/settag/name=lotame/tags=all,Int_Lifestyle,Demo_Age_65plus_enr,Int_Entertainment,Demo_Age_35to44_enr
Although diverse, these directions influence and nourish one another for they all attempt to depict the spirituality of man.
Amin is today a household name in Pakistan. He is also a widely exhibited artist worldwide with works sought after not only by individual collectors but by public and private institutions.
He has been commissioned by the Pakistani government to create numerous public sculptures, including a piece entitled "The Message" for the Islamabad presidency.
Another of Amin's well-known pieces is "Minar" which now stands in Karachi's Quaid-e-Azam International Airport.
His latest masterpiece, the "Forgotten Text" jointly sponsored by Glaxo Smith Kline, Merck Marker, Pakistan State Oil, Pakistan Tobacco Company and Siemens, now stands proudly at a prominent roundabout in Karachi, Pakistan.
In 2005, Amin was honoured with the esteemed Pride of Performance award, which is only bestowed upon individuals who have attained iconic stature in their field of excellence, by the president of Pakistan.
"Body & Soul" is an exhibition that will bring together his geometric calligraphy works and his figurative works to represent body and soul.
Amin is also exhibiting his unique, sculptural jewellery pieces.
"Body & Soul" is being held at Wei-Ling Gallery, 8 Jalan Scott, Brickfields, Kuala Lumpur, from Aug 7 to Aug 30.
The gallery is open from Monday to Friday (noon-7pm) and weekends by appointment.
For details, call 017-887 7216/22 601106 or visit www.weiling gallery.com
Read more at https://www.thestar.com.my/news/community/2006/08/22/giving-life-to-metal/#VBoLDOiQumLvAdhj.99
Source: thestar.com.my