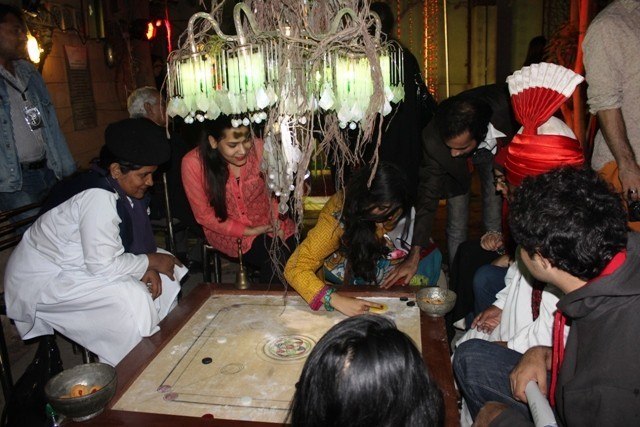 By Farhan Khan
Karachi: An exhibition of installation and performing art with the theme of Dreamscape was held on December 18, 2014 at the Amin Gulgee Gallery. The event was curated by Zarmeene Shah and Amin Gulgee; it brought together almost 50 visual, performance and theater artists, fashion designers and musicians.
Amin Gulgee briefed that through regular individual and group meetings with the core group of about 35 Karachi-based artists over a seven month period, with the curatorial agenda finding its basis in enacting a kind of collective dream, artists have formed visible connections and collaborations alongside the production of individual works created specifically for this show. Amin further added that more than a dozen artists from out of station had also been invited to send a dreamscape object that represents their individual interpretation of our collective reverie.
Amin Gulgee, the son of late legendary artist Ismail Gulgee, is counted among the leading sculptor of Pakistan. His inspiration is the varied and rich spiritual history of his motherland Pakistan. In the last ten years, his work has been exhibiting in different places of the world. His work has followed many different directions, from the purely abstract to work that is inspired from Hindu mythology, Buddhist civilization and Islamic calligraphy. Although diverse, these directions influence and nourish one another for they all attempt to depict the spirituality of man.
Well-established in Pakistan, the artist has also exhibited extensively in the USA, Europe and the Middle East. The artist's forty-odd shows include Prima Esposizione di Sculture e Installazioni in Venice, where he participated alongside Cesar and ten other international sculptors with a solo show at the IMF Gallery in Washington.
Source: liverostrum.com