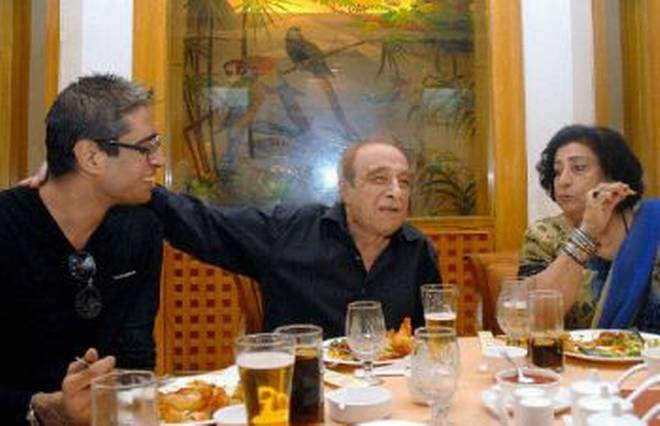 Artists Ismail Gulgee and Amin Gulgee cook up a storm in the studio and kitchen alike
"I can cook because I am a painter," says Ismail Gulgee, the well-known abstract painter from Pakistan. "And I can cook because I learnt it from my mom on phone when I used to live in New York," adds his son Amin Gulgee, a sculptor and jewellery designer. The two are exhibiting in India for the first time thanks to Nitanjali Art Gallery.
"It is after 10 years that my parents are both with me in my show," says Amin, whose sculpture and installation exhibition Kinetic Essence concludes at the Galerie Romain Roland, Alliance Francaise de Delhi, this coming Saturday. At The Chopsticks, the Chinese restaurant in Asiad Village, the father and son are in a relaxed mood, talking about what they love most: art and food. The restaurant's minimalist design and lively family ambience add to the informal chat.
Not like father
"I didn't want to be like my father – being in the public eye all the time. I saw him struggle so much. I feared the life he lived. I just wanted to live in the U.S. peacefully with a car of my own. But I hated Economics, which I was studying for my degree at Yale University in the 1980s," recalls Amin, who is one of the most visible artist on Pakistan television. With golden fried prawns he sips beer and exclaims, "That's delicious, it has added to my appetite." The senior Gulgee prefers cut fruits to begin with. "But I enjoyed my struggle as I didn't take it bitterly. I did my degree as an engineer to fall back on in case of need. I knew if you have are intelligent, you cannapply it anywhere and excel."
Sopa vegetables (mixed vegetables), chicken Mongolian and hakka noodles arrive at the table. Amin fondly digs in, recalling, "When I was in the U.S., I didn't want to eat the bland food there. So I laid my hands on Madhur Jaffery's cookbook. I was craving to have the dal mom used to make at home – thick, fried dal. Gosh! The dal recipe in that book takes ages to cook. It is so cumbersome. Why should cooking be made so complex? I called up mom and took the recipe over the phone. Within minutes I prepared a delicious dal. Each time I wanted to eat home-like food, I would call her and take the recipe. That way I survived my days there."
Taking a bite of hakka noodles and green bean corn dipped in spicy sauce, his father smilingly recalls, "Once the Begum of Bahawalpur came to buy my works. I was preparing coffee for her. I kept on whipping coffee but it wouldn't produce lather. When I didn't turn up with coffee for a long time, my wife entered the kitchen. She started laughing. I was whipping a percolated coffee. But the begum drank it just to impress me. She wanted my work at any cost!"
Chicken pickle
The senior Gulgee is equally proud of his culinary arts. "You know I can cook murgi ka achar (chicken pickle) very well. It's a Kashmiri dish. It's my signature dish. It is prepared in vinegar so you can keep it for 15 days without refrigerating." Besides, chips in his wife Zara, he makes his crispy egg omelette breakfast on his own." "I am a controlled cook. I don't spoil dishes," he says with a mischievous smile. "And Amin is too good with Italian dishes," Zara adds.
It is dessert time: chocolate pastry and vanilla ice cream with flat honey noodles. But honey is already in the air.
Source: thehindu.com