Held at the Canvas Gallery in Karachi, Amin Gulgee's latest presentation was called 'Spooky Action At A Distance'. Let's first start there.
The phrase is translated from the German phrase spukhafte Fernwirkungen and was first spoken by the physicist Albert Einstein, who developed highly influential theories of relativity and quantum mechanics in the early 20th century. Relativity deals with the presence and absence of gravity and its effects on matter, time and nature. Quantum mechanics, on the other hand, aims to understand the nature of matter and the behaviour of particles at the atomic and subatomic levels.
So much about the quantum world is left to be understood, especially about the effect of atoms on each other when they are separated by distance. Einstein doubted that distanced atoms can affect each other in their behaviours — a type of a "quantum entanglement" — labelling the phenomenon as "spooky action at a distance."
Building upon Irish physicist John Bell's works, scientists have recently tried to show that quantum entanglement may exist after all between molecules and living beings. This is like believing that an occasion taking place in one part of the world has the power to affect another unrelated incident. Spooky, after all!
In his latest exhibition, Amin Gulgee paid homage to the strange and wonderful, both in his displayed works and in a collaborative performance piece
At this point, you might be wondering, what has all this science and mystery got to do with art? Gulgee's recent stunning exhibition takes its title from Einstein's phrase, showcasing symbolic works in copper and steel that relate to and inspire each other (metaphorically), as if in a quantum entanglement.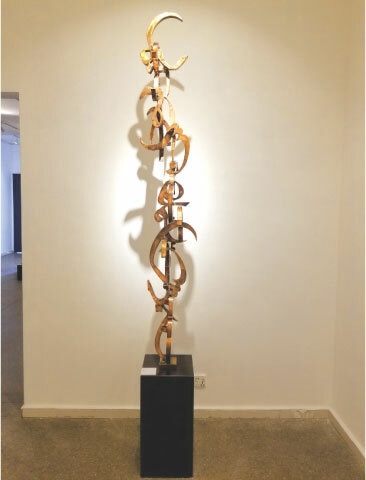 Preceded with dreamlike performances conducted by Gulgee along with 17 other artists at the opening, Gulgee's works extend to many interpretations that are entwined with multiple dimensions of himself and his realities.
Gulgee's art practice encompasses over 30 years of manipulating metals. Copper (his central material of choice), iron, bronze (an alloy of copper and tin), steel and silver leaf meet numerous processes like cutting, moulding, welding, gold- and silver-plating amongst others, resulting in aesthetic works that bring attention to their materials and methods.
Gulgee holds a BA in economics and art history from Yale University. His early career was characterised by individualistic fashion pieces modelled in metals and alloys, sculptural self-portraits and mystical masks. In the 2000's, the artist fully transitioned towards making large-scale metal sculptures that invoked Quranic verses through organic forms, geometric constructions, and deconstructed self-portraits.
The works have been exhibited abroad extensively to critical acclaim. Gulgee was the chief curator for the Karachi Biennale 2017 and is deeply invested in performance art. Each artwork and performance by the artist is another part in his highly individualistic artistic arc, a whole that continues to be affected by its fragments.
Gulgee manipulates scale, as spectators found in the massive The Iron Horn (2023) in the first room of the gallery, the form inspired by a water buffalo's horn. There is a quality of phantasmagoria attached to the seashell-like form. It brings mythical objects to my curious mind, such as the conch of the Hindu deity Vishnu from ancient South Asian epic literatures.
If you have watched cult films or explored art and literature that deal with mystical figures or ancestral art-making in native collective societies, you might just hear a shamanistic ringing and beating drums in your ears while you view the helmets titled The Ram, The Legionnaire and The Oracle (2022) in the same room. Such is the thrill of Gulgee's stout objects, magnified exponentially through the artist's hands and the textures, forms, colours and the brilliance of copper.
The larger and central space in the gallery is dedicated to works that are meditations on Quranic verses in Arabic, specifically the ones from Surah al-Alaq [The Clot]. The fifth verse of the Surah that translates as, "taught man that which he knew not", has been reflected upon and assembled repeatedly in Gulgee's sculptures throughout the years.
At this point, the verse is absorbed within his work so much that the Arabic is recognisable sometimes as letters and other times as words, but still wholly illegible, as seen in the sculptures Spider Raga (2012), Ascension (2018), and Shadow Letters I, II and III (2023). The sculptures radiate a deep and sensational je ne sais quoi [I do not know what] quality, motivating one to read sacred texts, post viewing.
While talking to me, Gulgee passionately reveals that "chopping up" his sculpted portraits is therapeutic and now integral to his lived experiences and self-expressions. Entangled Tower (2023) plays with Gulgee's signature visual vocabulary. Here, forms of his hands and dissected self-portrait are assembled vertically. A most rigorous and marvellous feat from his studio-workshop processes, artisanal assistance and material handling, the work is best viewed patiently and up close.
After a careful on-going deliberation with his works and concepts over the years, I have come to believe that Gulgee's works are the epitome of self-awareness. Through this exhibition, whether he connects with you spiritually, invokes a passion for science, or brings out the latent artist in you, among other sentiments, Amin Gulgee gives you the ultimate lesson to find and recognise "yourself".
Curated by Adam Fahy-Majeed, 'Spooky Action At A Distance' was displayed at Canvas Gallery in Karachi from February 7-16, 2023. The opening showcased a piece of performance art by Amin Gulgee and 17 participating artists
Published in Dawn, EOS, February 26th, 2023
Author: Nageen Shaikh
Source: Dawn